The Doctor Who Tardis lamp is one of the most detailed pieces I have designed yet. It pushes the boundaries of what my laser cutter can do to a flat piece of plastic. It features some of The Doctor's greatest enemies on the sides, while showcasing the Tardis falling through spacetime on the front.
Projecting images onto walls has become a staple of most of The Plasmatorium's lamps. Some work better than others, though.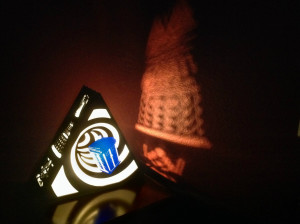 Just like most other creations, it all begins with a crude and simple sketch.